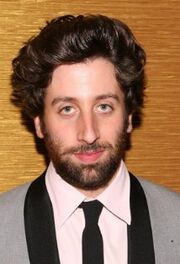 Simon Maxwell Helberg (born December 9, 1980) is an American actor and comedian. He portrayed in Moist in Joss Whedon's Dr Horrible's Sing-Along Blog. Helberg is probably best known for his role as Howard Wolowitz in the CBS sitcom The Big Bang Theory. He was also a member of the recurring cast of comedians on sketch comedy series MADtv for one season.
Ad blocker interference detected!
Wikia is a free-to-use site that makes money from advertising. We have a modified experience for viewers using ad blockers

Wikia is not accessible if you've made further modifications. Remove the custom ad blocker rule(s) and the page will load as expected.